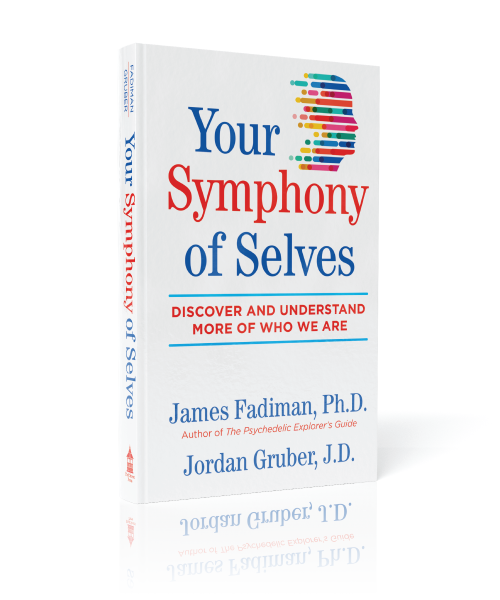 Praise for Your Symphony of Selves 
"A profound, brilliant, and convincing account of the many entities that make up each of us. I hope it will have the success and influence it deserves."
—Richard Smoley, author of A Theology of Love: Reimagining Christianity through "A Course in Miracles"
"I love to erase negative stereotypes about all of us relatively healthy people who enjoy being a community of many different selves. It's a favorite hobby of mine. I've always hoped that some brave psychonauts would come along to offer a systematic analysis of the subject, which in my view would constitute an enhancement in psychological theory that revolutionizes our approach to mental health. Now James Fadiman and Jordan Gruber have fulfilled my wish by creating the definitive text on the subject. Their book is rigorous and engaging and pleasurable to read. I'm ecstatic about their ennobling upgrade in the understanding of what it means to be human."
—Rob Brezsny, Free Will Astrology columnist and author of Pronoia is the Antidote for Paranoia
"Fadiman and Gruber have the remarkable capacity to inspire in readers the capacity to access their best selves. Their generosity of spirit and openness of heart is evidenced in this wonderful book, which urges us to look at ourselves and our lives in an entirely new way. We are a not a single self, they teach us, but rather we contain multiple selves, each valuable in its own way. This lovely book will help you understand and embrace who you are and who you could be."
—Ayelet Waldman, Author, A Really Good Day
"Astoundingly, my various persona all seem to agree that Fadiman and Gruber have unpacked this complex topic in ways that are factual, insightful and extremely useful—a must read for most, if not all, of your selves."
—Foster Gamble, Co-creator, Thrive Movies and Movement
"James Fadiman has consistently been walking, exploring, and illuminating the cutting edge of culture for the past half century. This book is no exception, and with it, Fadiman and his scholar-writer partner, Jordan Gruber, intellectually investigate and prosaically dance in a way that recognizes and honors the many voices within us all. It seems that we are all personal democracies that 'vote' for the type of person that we are and that we become by listening to these voices and acting on them. The many voices within me deeply appreciate the many voices within Fadiman and Gruber."
—Dana Ullman, MPH, CCH, author of ten books on homeopathic medicine, including The Homeopathic Revolution: Why Famous People and Cultural Heroes Choose Homeopathy, and co-author of Everybody's Guide to Homeopathic Medicine
"Back in the 60s, our culture got worried and confused over what was "normal." Altered states of consciousness became common for many. Were we evolving or going
crazy? Drugs, dreams, meditation: wasn't that all crazy? My 1969 book, Altered States of Consciousness, helped us see the many ways a mind could function, and promoted some badly needed research. I think Your Symphony of Selves has the potential to help us evolve like the ASC book did. Based on what I've read in Symphony, I now more clearly recognize some of my own selves: my scientist self, my personal growth self, my spiritual self, my "Am I kind of crazy sometimes?" self … and all of them/me are/is getting valuable ideas and practices to become more harmonious. My thanks to Fadiman and Gruber for this remarkable book!"
—Charles Tart, Ph.D., Professor, Consciousness researcher and inventor, is the author of Altered States of Consciousness and over a dozen other books and 200 articles and chapters.
"This masterful, comprehensive exploration of the diversity within us is both fascinating and useful. With grace and erudition, Drs. Fadiman and Gruber explore the nooks and crannies of our minds—and in the variety of "selves" they find there is, paradoxically, a profound and healing sense of wholeness and freedom. "
—Rick Hanson, Ph.D., author of Buddha's Brain, Hardwiring Happiness, and Neuro Dharma: New Science, Ancient Wisdom, and Seven Practices of the Highest Happiness
"Fadiman and Gruber have artfully brought a new and fascinating perspective to how we see and understand ourselves. This insightful book creates a landscape of perspective with profound implications for understanding the psychology of human beings. A "must read" for every person interested in self-discovery."
—Bill Linton, Founder and CEO of Promega Corporation and Executive Director, Usona Institute
"The idea that our sense of self is illusory, and that we all contain different selves, seems strange. But the great accomplishment of Your Symphony of Selves is that it doesn't just make this idea perfectly sensible; Fadiman and Gruber show how it can help us better understand ourselves, and how cultivating and integrating those multiple selves makes us healthier and happier."
—Alex Soojung-Kim Pang, Ph.D., author of Shorter, Rest, and The Distraction Addiction, and founder of Strategy and Rest, a Silicon Valley consultancy
"Yup, Jim's my cousin, but because I've known him for so many decades, I can attest that he's usually right. He has an uncanny ability to take a problem, turn it calmly in his hands, look at it from many angles, and solve it, always with a glint of amusement in his eye. Until I read this book he wrote with Jordan, it had never occurred to me that what enables those multiple angles is his sense that he isn't confined to a single self. He is a team! The ideas in this book seem simple, but that's the point: why make things hard when they could be easy?"
—Anne Fadiman teaches nonfiction writing at Yale College. She is the author of The Spirit Catches You and You Fall Down, among other books
"The American Psychological Association's Dictionary of Psychology defines "self" as "the totality of an individual," and this perspective is commonly accepted by Western culture. However, James Fadiman and Jordan Gruber make a persuasive case that people possess a multiplicity of selves and that this condition is neither rare nor pathological. Their book, Your Symphony of Selves, is a tour de force that pulls together insights from psychiatry, philosophy, religion, neurology, the humanities, and the social and behavioral sciences. It is profound, yet entertaining, plumbing deeply into rarely explored depths of the human psyche. It even contains activities and exercises that its readers can employ, soon realizing that they may never be the same again."
—Stanley Krippner, Ph.D., Affiliated Distinguished Faculty Member, California Institute of Integral Studies; Co-author, Personal Mythology; co-editor, Varieties of Anomalous Experience
"In Symphony of Selves, Fadiman and Gruber, provide a cerebral and enthralling discussion of "who we are". The granularity of their work is singular. Nowhere are their words "… being in the right mind at the right time" more applicable than the Military Fighter Pilot. The world moving, quite literally, at Mach 1 creates an unforgiving cauldron where incoherent or incongruent thought yields catastrophic results. The difference between life and death depend on Fighter Pilots finding their Mental Best Selves."
—Buster Glosson, 3 Star General, USAF (Ret.), Author of War with Iraq: Critical Lessons
"Walt Whitman wrote, "I am large, I contain multitudes." Indeed he did, as do we all. From the micro-biome in our gut to the voices in our heads, each of us is a community, as Jim Fadiman and Jordan Gruber explain in this fascinating, delightful book. The illusion of a single unitary self interferes with clear thinking about everything from immunology to psychiatry to the nature of community. We are each a symphony of selves, and my selves highly recommend this book to your selves."
—Chris Ryan, Author of Sex at Dawn, Podcast: "Tangentially Speaking"
Order Your Symphony of Selves Today!